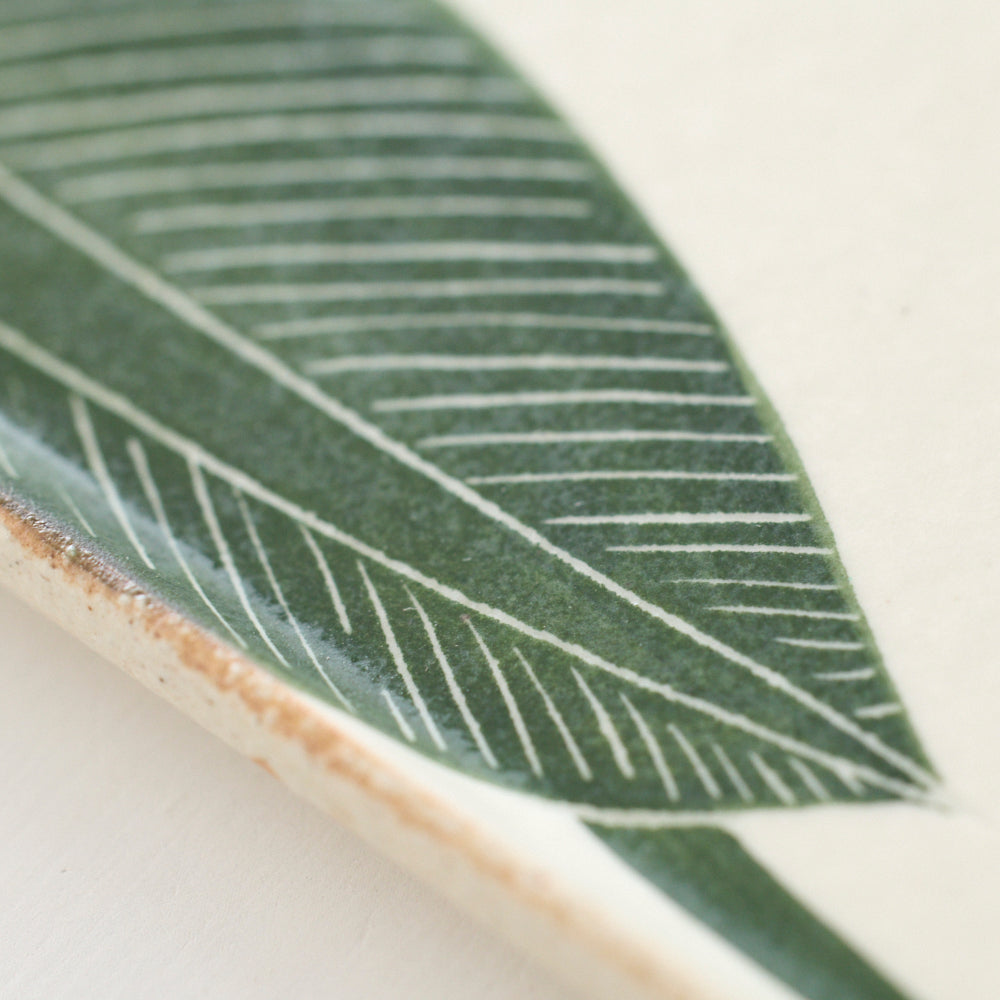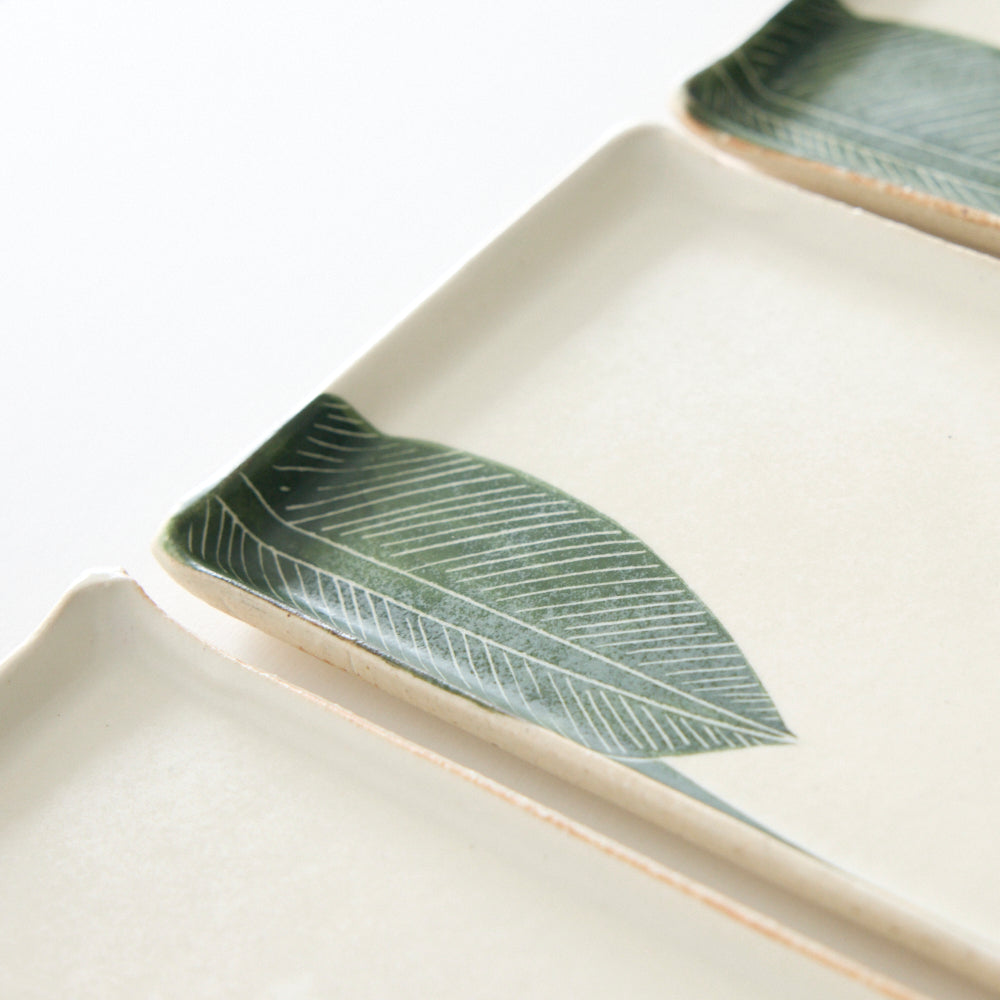 77 Banana Leaf Square Plate
---
A long square plate with a long side of about 26.5 cm is for main dishes such as fish and meat. Or assort several appetizers. It's also good for snacks and desserts.
-
The first thing that surprises you when you pick up Momoko Otani's work
Good balance and good sense of usability.
Starting with the choice of soil and molding method
Rim Rise and Width
Range and condition of glaze
overall thickness and weight
And when the pattern comes in, the story starts at once
It becomes a design area.
Once again, I feel that pottery is an "art of choice."
what to take in and what to discard
After repeatedly suppressing and releasing consciousness, finally
I think that one work will be completed.
The sense of stability that Momoko's work gives off,
The sense of unity and sense when looking at it as a mass
There is something different.
Plates and bowls should be restrained and designed to bring out the best in the food.
The green color is also low in saturation and deep in concentration, and blends well with any dish.
On the other hand, sake cups have bold and fun designs.
While witty self-expression
Works that are truly made from the consumer's point of view.
I want you to use it at home and in restaurants.
Long side: about 26.5 cm / short side: about 13 cm / height: about 1.5 cm
There are individual differences in the glaze, color, and size as this is an artist's work.

Momoko Otani Ceramic History
1971 Born in Kyoto
1990 Studied art history at Oregon State University
~Study abroad in Indonesia while in school
1997 Shigaraki Ceramics Technical Research Institute Glaze Department
1998 Shigaraki Pottery Technical Research Institute
2008 Opened Otani Pottery Co., Ltd.


*After use, remove dirt as soon as possible and dry thoroughly.
* Microwave OK, Dishwasher OK, Oven not OK.
*No returns or refunds will be accepted. Please understand this when purchasing.
〜A request to our customers〜
There are people who resell works purchased at our store at high prices on Mercari.
We do not sell our works for resale purposes, and any resale is prohibited. When you purchase a product from our shop, you agree to the prohibition of reselling.
July 23, 2020
〜お客様へお願い〜
当店で購入した作品をメルカリ等で高額で転売されている方がいます。当店の作品は転売目的の方には販売しておらず、一切の転売行為は禁止しています。当店の作品をご購入される際、転売行為の禁止について承諾したものとさせて頂きます。
令和2年7月23日
Choose options