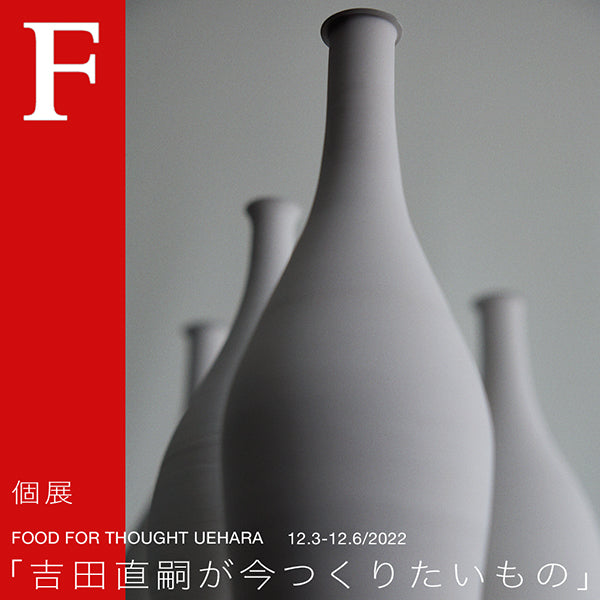 "What Naotsugu Yoshida wants to make now" 12/3 (Sat)-12/6 (Tue) Uehara store
An admission ticket is required from 11:00 to 14:00 on the first day!
Tickets can be purchased from 11/26 (Sat) from 21:00 on our ticket reservation site
Start at ( foodforthoughtshop.net ).
At FOOD FOR THOUGHT, from December 3rd (Sat) to December 6th (Tue), 2022, the 3rd solo exhibition "Yoshida What Naotsugu wants to make now" will be held.
In this solo exhibition, as the title suggests, FFT made only "what Mr. Yoshida wants to make now" without any orders. The artist's signature, beautiful white porcelain works are simple, so they vividly express the mentality and thoughts at the time of production.
Mr. Yoshida turns the potter's wheel as smoothly as he breathes. It's a surface that always looks flat, but if you look at it with a microscopic eye, it hides a lot of messages. Although it is cryptographic and for professionals, it is comfortable to use. This is why Yoshida's works captivate so many fans.
I can't finish this year without seeing Naotsugu Yoshida's summary of 2022!
There are many one-of-a-kind items that you don't usually see and that are likely to become a statement piece in your interior. Of course, we will also create a basic lineup that fans who want to buy more will be waiting for.
All the staff are looking forward to welcoming you.
-
"What Naotsugu Yoshida wants to create now"
FOOD FOR THOUGHT Uehara
12/3(Sat)-12/6(Tue)
11:00-18:00
Reservation ticket system until 14:00 on the first day
After that, you can enter without reservation.
*
For reserved tickets,
Tickets will be on sale from 21:00 on 11/26 (Sat) on our special ticket sales site ( foodforthoughtshop.net ).
FOOD FOR THOUGHT
〒151-0064
2-33-4 Uehara, Shibuya-ku, Tokyo
03-6416-8294