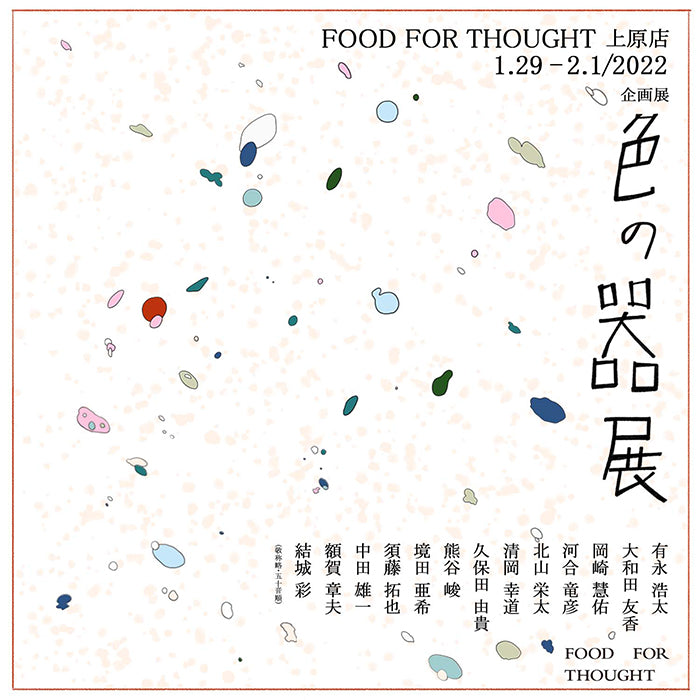 Special exhibition "Colored vessel exhibition" will be held at Uehara store from 1/29 (Sat) to 2/1 (Tue)!
At the FOOD FOR THOUGHT Uehara store,
From January 29th (Sat) to February 1st (Tue), 2022, at the Uehara store, we will hold a special exhibition "Colored Vessel Exhibition" where 13 popular artists will gather.

The "color" that I want to express in this special exhibition is not just about color.
The freedom and individuality of creators and their works are collectively called "colors".

Pottery, woodwork, glass and medium are freely selected by the creator.
In addition, you can freely select the expression method from among a large number.

I once again think that the works handled by FFT are the art of choice with freedom as the basis.

Freedom, in the words of Erich Fromm, comes with a stinging loneliness and a heavy responsibility.
It is human nature to throw away freedom and sink into the whole without being able to bear the weight of it.
As an artist myself, I am well aware of the pain of freedom strangling me during the production process.
That's why I respect creators who confront "freedom" head-on with their own chosen expressions, and I would like to work with them.

This time, 13 creators participated. The unique expressions that each of them have honed every day will color the ink-colored canvas of the Uehara store.

An artist who does not hesitate to use vivid colors, an artist who sticks to the subtle differences in white, an artist who fights with unique expressions as a weapon, and a woodworking artist who loves all the individuality of wood. . .

I think that it is a lineup that you can fully enjoy the individuality of each.

I'm happy to say that there are 5 creators participating for the first time this time as well. In alphabetical order:
Yuka Owada (ceramic artist)
Yuki Kubota (ceramic artist)
Shun Kumagai (glass artist)
Yuichi Nakata (ceramic artist)
Aya Yuki (ceramic artist)
Please look forward to the individuality of the creators who participated for the first time, as well as the chemical reactions that occur with other popular artists.

Now, coexistence with viruses has entered a new phase, and what we at FOOD FOR THOUGHT would like to cherish in the next phase is:
Diversity = Diversity
Tolerance = acceptance
Two points.

I would like to create a gallery with a broader perspective and introduce more colorful expressions to our customers.
I believe that this exhibition will be a milestone in that direction.

It is my sincere hope that I can help you reopen your sensibilities, which were once about to shrink under the closed situation, with "Iro no Utsuwa" this time.

All the staff are looking forward to seeing you!
FOOD FOR THOUGHT Representative Takahiro Igarashi
-
Participating artists:
*Alphabetical order, titles omitted
Kota Arinaga / Kota Arinaga
Yuka Owada
Keisuke Okazaki
Tatsuhiko Kawai
Kitayama Eita / Eita Kitayama
Kodo Kiyooka
Yuki Kubota
Shun Kumagai
Aki Sakaida
Takuya Sudo
Yuichi Nakata
Akio Nukaga
Aya Yuki

Artwork by Sumire Akasaka
-

Special Exhibition "Color Vessel Exhibition"
FOOD FOR THOUGHT Uehara
1/29 (Sat) ~ 2/1 (Tue)
OPEN 11:00~18:00
Reservation required until 14:00 on the first day.
-
FOOD FOR THOUGHT
〒151-0064
2-33-4 Uehara, Shibuya-ku, Tokyo
03-6416-8294