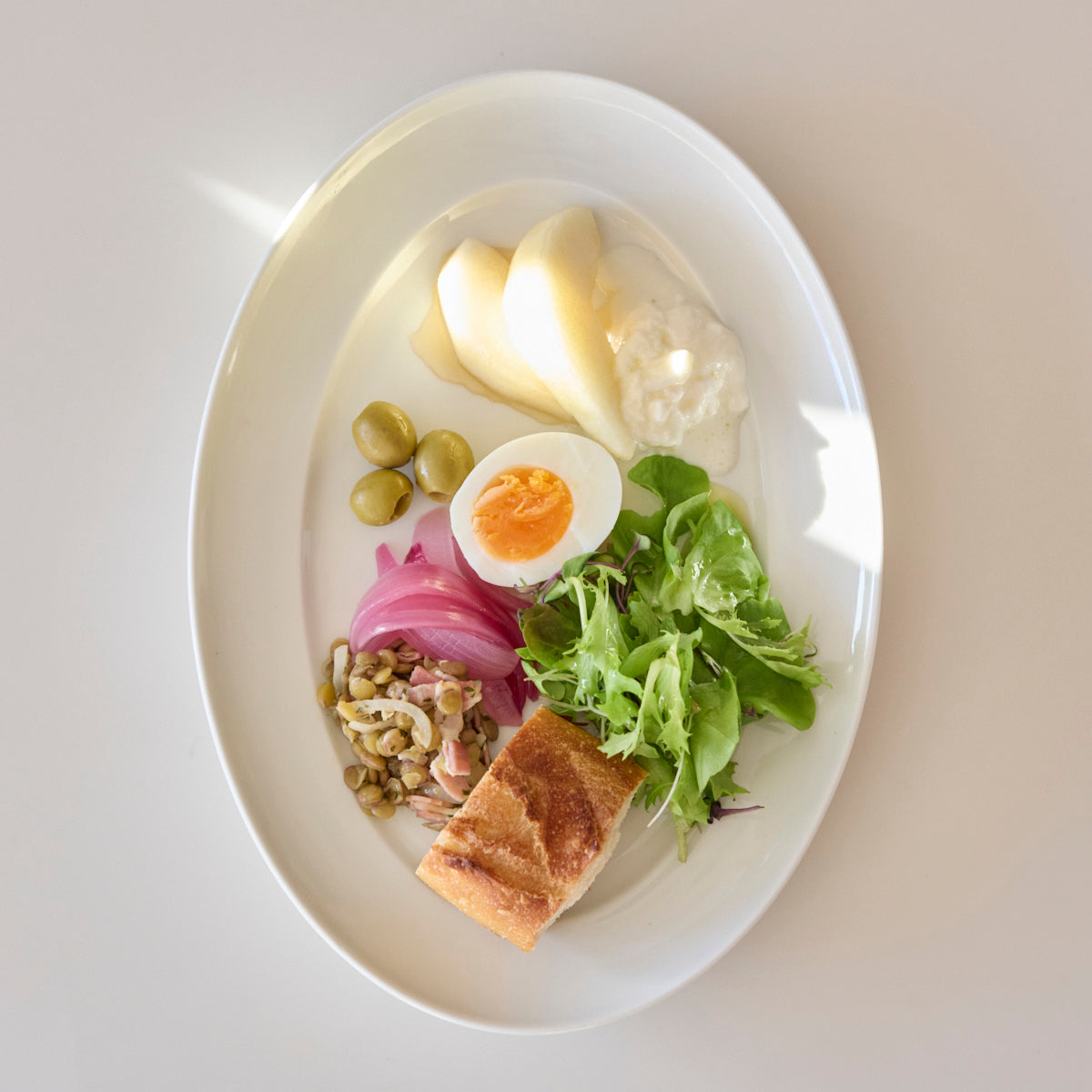 MODERN CLASSIC OVAL PLATE L
---
The "MODERN CLASSIC" series is all hand-made by craftsmen, so there may be slight black spots of iron powder, spots of air bubbles, traces of glaze flow, etc. Just like the 1900s Brocanto that we aimed for, we value the traces of handiwork, so please understand before purchasing. All items that have problems with safe use such as cracks, chips, or distortion are inspected and repelled.
-
"Oval plate" of the MODERN CLASSIC series. This is L size.
An old French oval plate that our director Yuko Watanabe likes to use. I especially like the gentle white plain fabric from the late 1800s and early 1900s, not too big, not too long, thin and elegant.
Such "just right oval plates" are so popular that they are not available in Japan.
Therefore, at our shop, we have prepared glazes, thicknesses, and handles so that you can enjoy them at the dining table together with our popular original cafe au lait bowls. Brushup.
The L size fits a Japanese dining table with a long side of 1 shaku and an inner diameter of 7.5 sun. As a main dish, as a side dish, as a pasta dish, as a one-plate dish, as an assortment of desserts, the uses are endless!
Heavy ovals are usually stored in the back of the cupboard, but we created the best balance to make them as thin and elegant as possible so that they can be used as starting members at the dining table.
The gentle radius of the rim not only catches juicy food, but it also makes it easy for fingers to catch when bashing, and creates a thin and beautiful light reflection on the edge when stacked. It's really beautiful when stacked up, so it's perfect for "showable storage" such as open kitchens, and for use in restaurants, cafes, and other restaurants.
High quality Japanese porcelain. It is a confident product created through trial and error with reliable craftsmen.
The proportions are based on French brocantes from the late 1800s to the early 1900s, and are modernized with a focus on thinness that will get worn out if you go any further. It has a soft, smooth and round feel, but the details are tense.
The slightly greyish white glaze gives a gentle impression, and we have taken into consideration the ease of use at home and in shops. Gray "FOOD FOR THOUGHT" logo on the bottom.
made in Japan
Long side: 29cm / Short side: 20.8cm / Height: 3cm
-
*Since all processes are done manually by craftsmen, there may be very slight individual differences that are unique to ceramics. However, there are slight differences such as 1-2mm size differences, 1-2mm spots, glaze flow and irregularities, and slight color differences due to glazing and firing. There is no problem in practical use.
*Can be handled in the same way as normal porcelain products. A microwave oven and a dishwasher are OK, too. Oven and direct fire are not allowed.
*Please handle with care as it may be damaged by strong impact.

*This product is strictly inspected by FOOD FOR THOUGHT, and we only sell products that have been confirmed to be non-defective.
*Due to the characteristics of the product, we cannot accept any returns or refunds. Please purchase after understanding.
〜お客様へお願い〜
当店で購入した作品をメルカリ等で高額で転売されている方がいます。当店の作品は転売目的の方には販売しておらず、一切の転売行為は禁止しています。当店の作品をご購入される際、転売行為の禁止について承諾したものとさせて頂きます。
令和2年7月23日
Choose options