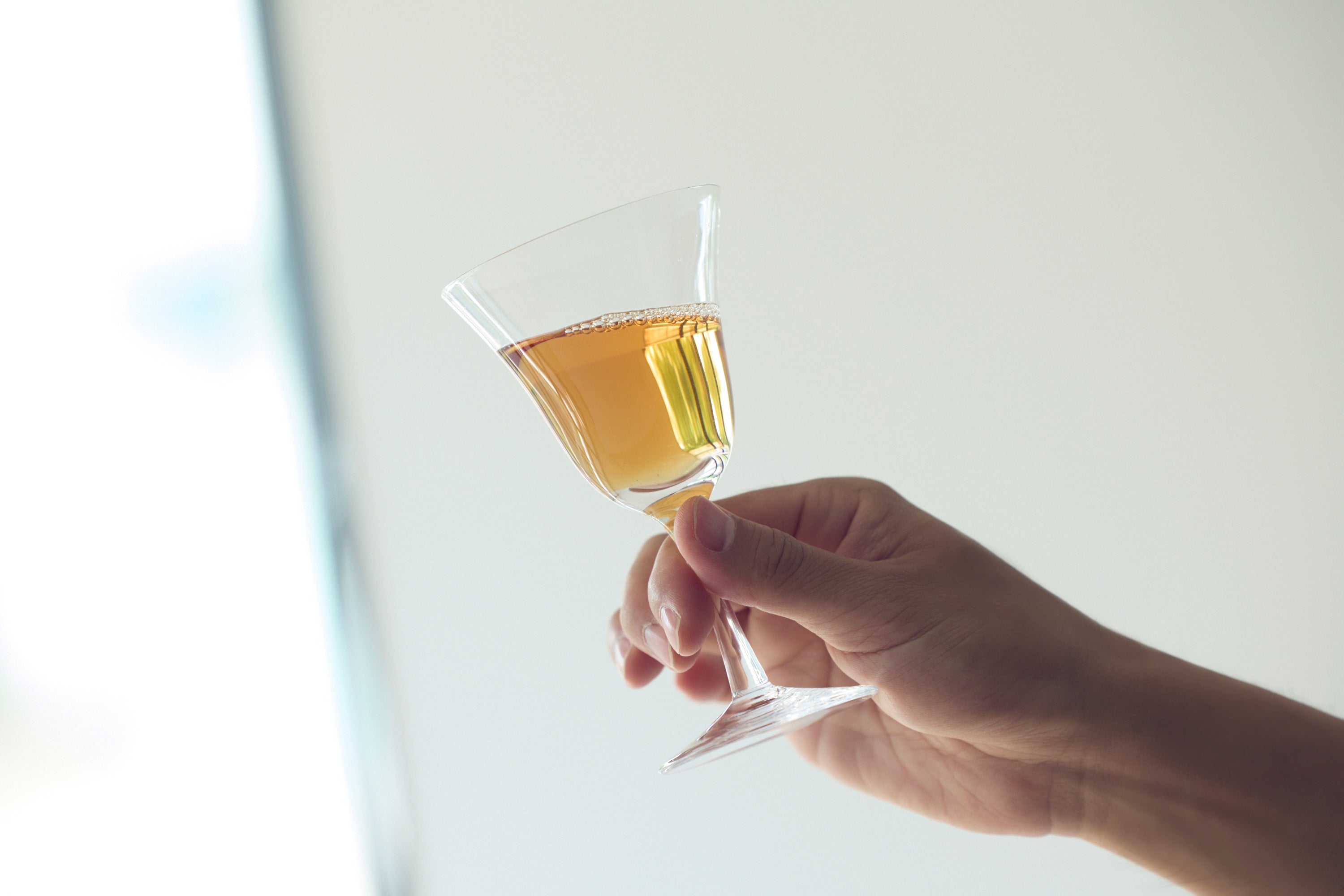 flare glasses
---
FOOD FOR THOUGHT original design flare glass. With its versatile usability and outstanding beauty, it has gained great support not only at home dining tables, but also from restaurants such as bars and cafes.

It is a proud product that has been carefully selected for its size, stem length, and thickness.
The curved beauty of the form brings a gorgeous impression.
It looks like a tulip and is exquisitely delicate.
Iced tea, champagne and rosé, and brightly colored drinks look great.
The capacity is about 120ml, so it is highly recommended for hard liquor and sake that enjoys the aroma.
Made in Japan, all hand-blown glass by skilled craftsmen. Thanks to high technology, it is thin and elegant, yet sturdy and durable.In addition to drinks, it is popular at restaurants for desserts such as parfaits.

Made in Japan Diameter: Approx. 7.5cm / Height: Approx. 13.5cm / Capacity: Approx. 125ml ( full weighing)
-------------------------------------------------- ------
FOOD FOR THOUGHT
April 2017: Opened FOOD FOR THOUGHT, a store that sells works that provide hints for a better life, centering on the artist's pottery.
September 2020: Launched "FOOD FOR THOUGHT", a standard tableware brand that can be purchased at any time.
-------------------------------------------------- ------
*Because each piece is hand-blown by a craftsman, there are individual differences in thickness, air bubbles, and the thickness of the stem. Some have air bubbles on the surface.
*If it is a dishwasher that is OK for wine glasses, you can use it normally.
*Since the products we send meet our product standards, we cannot accept any returns or refunds. Please understand this when purchasing.
〜お客様へお願い〜
当店で購入した作品をメルカリ等で高額で転売されている方がいます。当店の作品は転売目的の方には販売しておらず、一切の転売行為は禁止しています。当店の作品をご購入される際、転売行為の禁止について承諾したものとさせて頂きます。
令和2年7月23日
Choose options