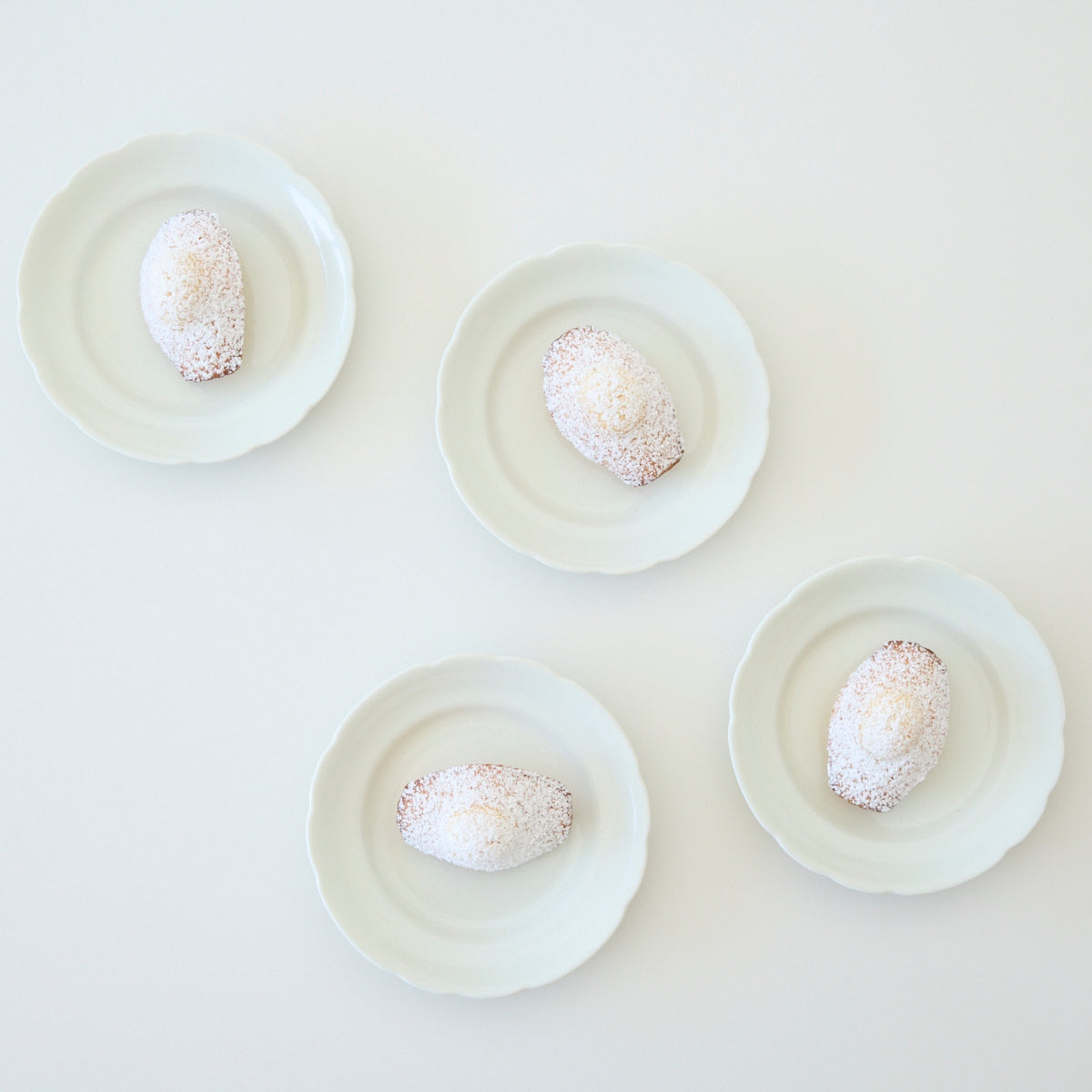 Paperwhite Flower Rim Plate S
---
・ギフト包装をご希望の方は、こちらから商品と一緒にご注文ください。
S size has been added to the popular "Flower Rim Plate" in the "Paperwhite" series!

At 15cm, the S size is ideal for individual plates for desserts, baked goods and appetizers. Furthermore, of the same "Paperwhite" series You can also use it as a coffee cup saucer. Please purchase it as a set.  
The understated and delicate flower rim and the " Paperwhite" glaze create a synergy, creating a round and gentle atmosphere as if it had been used for a long time. It goes well with any Japanese, Western, or Chinese cuisine. As you use it, the color will enter the penetration, and the texture will increase further.
I would like you to use it for a long time as a "vessel for growing".
-
Japanese porcelain
Diameter: Approx. 15cm / Height: Approx. 2.5cm
-
* The "Paperwhite" series is a product that intentionally brings out the slight individual differences that are unique to ceramics. These include the appearance of black iron powder, spots of 1 mm or less, and color changes from blue to yellow due to uneven firing temperatures in the kiln. And we use a penetrating glaze to bring out the aging.
*There may be slight differences in shape due to the manufacturing process, glaze flow and unevenness, and slight color differences due to glaze application and firing, but there is no problem in practical use. Please note that all products are not exactly the same as they are handcrafted and not machine produced.
*Can be handled in the same way as normal porcelain products. A microwave oven and a dishwasher are OK, too. Oven and direct fire are not allowed.
*Due to the characteristics of the product, returns and refunds cannot be accepted . Please purchase after understanding.
〜お客様へお願い〜
当店で購入した作品をメルカリ等で高額で転売されている方がいます。当店の作品は転売目的の方には販売しておらず、一切の転売行為は禁止しています。当店の作品をご購入される際、転売行為の禁止について承諾したものとさせて頂きます。
令和2年7月23日
---
Choose options